Next week we'll be going camping in France. That means amongst others that we will be making quite some kilometres, and if you know me a little bit you know that I am not that fond of travelling large hours.
One way to make the trip more pleasant is music.
The traditional source of music was the radio, but when travelling long distances in several countries, you'll loose your station every two hours. The past years we brought some CDs with us, but CDs are bulky and we can only take a few of them.
For this year's trip, I bought a Belkin TuneBase FM, allowing us to listen to all the music stored on MJ's iPod.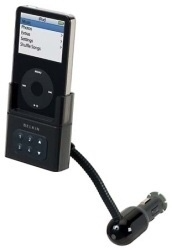 The TuneBase converts the iPod into a radio station. It has four button to select pre-stored frequencies and up and down buttons for manually selecting frequencies. All we have to do is tune our car radio to the TuneBase frequency, and we can listen to all the music stored on the iPod.
We're ready for the trip!