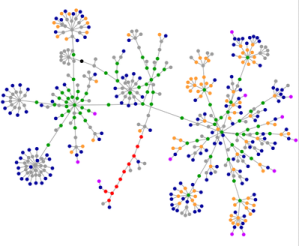 More and more bloggers unite in so-called blogging networks. Robert Scoble published a good overview of the most important networks in Competitors of PodTech that I love, er, going to the Content Mall. A content mall is the same as a blogging network.
As I am interested in blogging in general, I have been following various blogging networks for some time. I can clearly see the benefits of blogging networks for the bloggers involved, but have been wondering for a long time what the benefit is for the visitors of a site part of a blogging network. So I posted the following comment:
It is clear that 'content malls' bring in huge benefits for the sites within a mall. They can work together and link to each other to boost PR.

But what benefit is there for the visitors? Shopping malls bring benefit by sharing a physical space with various stores. After going shopping for clothes I can buy some electronics without having to drive to another place. Very comfortable.

But when visiting a fashion weblog part of a content mall I can go to the technology weblog of that mall just as fast as I can go to any other techblog. I won't visit the technology weblog because it belongs to a certain group, but rather because I like it in spite of being part of that group.
Answered promptly by Robert self:
By joining a network a blogger/podcaster/videoblogger will probably be able to get paid much more than if he/she tries to do it on his/her own.

That money might let them quit their jobs (that's what happened to GeekBrief.TV, for instance) which will enable that person to produce even more content for you. Or, maybe, afford better equipment. Or, maybe be able to afford a trip to more industry conferences where they'll be able to bring you more news and information.
Robert completely hits the nail on its head here. What is good for the blogger is good for his/her reader.