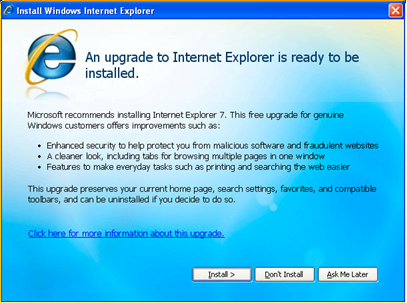 When its latest stand-alone browser ships in Q4, Microsoft plans to use its patch-distribution mechanism as its primary delivery vehicle. But businesses will be able to control distribution via a Microsoft-provided blocking tool.
Though a new version of the most popular web browser is definitely needed (the rendering engine is more than 6 years old, and there are many security problems) I wonder whether it is a good iedea to push it through the throat of so many people. This is going to lead to a lot of problems.
I am not afraid of websites that suddenly don't look so nice as before or that even stop working. The webmasters of such sites already had the chance to improve that ever since Firefox became popular, and if they still haven't updated their sites they will soon enough as visitors start complaining.
No, the main problem lies in the tight integration with the operating system, and the many third-party applications that make use of IE functionality. Though websites can be updated on a single place to fix the problem for once and ever, this is a lot harder for applications installed on millions of PC's.
A few months ago we have found that some of our applications are incompattible with IE7, giving an 'Invalid URL format' error. We quietly started looking for a solution for this problem, expecting that IE7 would be released together with Windows Vista or as an optional download. The announcement that Microsoft is going to push IE7 as an automatic update surely is going to give us some problems, as we are going to have to solve this bug and update all our customers before the end of Q3!