Our house is one of the few places on earth where you can still find a television without remote control.
We have been thinking about upgrading it to one of those modern TFT or plasma screens, but have been waiting for affordable models that incorporate Digital Terrestrial Television. Until today…
DTT is available for some time now, but television sets are still running behind on this. This morning I ran into a very good offer for a Nokia Mediamaster 110 DTT set-top box.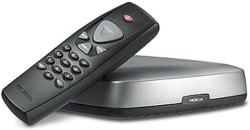 I connected and configured it well within 5 minutes, effectively upgrading our old television set to a TV with remote control, teletext and 20+ channels while we used to have 8 channels.
This small device just saved me a lot of money!