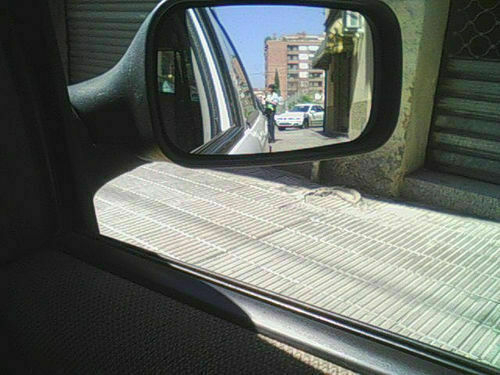 The street where I live is just inside the 'blue zone', the zone where you have to pay to park on the streets. The payment machines are activated on working days from 9-14 and 16-20, the other hours you don't have to pay.
I never pay, since these hours coincide more or less with my working hours, so I can park my car in front of our door for free. The only exception is the end of the morning: I work until 13:30, and usually arrive home 15 minutes later. So officially I have to pay 15 minutes, 15 eurocent, every day, which I never did until today.
When I come home I always pass the parking control, as they are talking to each other while waiting for the end of their shift. Every day I see them standing on the same corner, and I know that I can park the car in the blue zone without having to be afraid that they will fine me.
The controller on the photo might just have started this job and was simply doing his job, or she does not get along very well with her colleagues or maybe simply had a bad day and wanted to share this feeling ;-).
Anyway, the result was that I ended up paying for 5 minutes of parking to avoid problems.