The first half of my life I have been a big fan of Lego. And I guess that I still have a warm place in my heart for this construction toy, because I was immediately exited when I say the Mini-Mizer (Flash required), a tool to create your Lego alter-ego. I played around a little bit, and this is the result: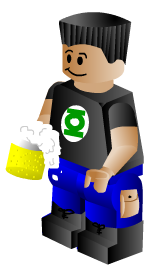 Does it look like me???
[Update 28.07.2003] MJ showed me better hair and a cooler t-shirt, so I updated the image.