Relax, relax, relax… I really needed to relax, and that is exactly what I have done.
Friday after work we met with some friends at the Tapas Gallery. First I had to convince them to sit outside in the comfortable terras, while they preferred the air conditioning inside. Even though we were eating some Patatas Bravas, Maria José and I were still hungry, so we headed to Telepizza for a pizza. What a horrible dirty place is that!!!! Next time we will phone them from home or go to the Burger King.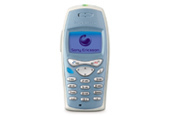 On Saturday morning I was supposed to clean our house, but instead of that I walked into town to buy me a new cellphone. I already figured out that I wanted a Telefonica Movistar prepaid number, since I am not using the phone that much and mostly to phone Maria José who also has Movistar. For the phone I only knew that I wanted one of the major brands, except for Motorola. After looking at the options in the shop, I chose the Sony Ericsson T200, a beautiful small device.
At lunch time, the temperature had risen to 38–40°C. With these temperatures, there are only two things you can do: stay at home (if you have air conditioning) or go to the swimming pool. We chose the last option as we don't have air conditioning. We headed to the amazing pool of Alpicat and bought a season ticket.
To my shock I received a reduction because of my age, I am definitely getting old!!!! For only €15 I can swim the whole summer.
When around 7 o'clock the temperature was a little bit more bearable, we took a shower and headed to Carrer Major for some shopping. Maria José was in a buying mood, and as usual that meant that she could not find anything while I easily bought some new clothes.
The Sunday started late. I went downstairs to Lo Panet to buy some croissants for breakfast and bought a newspaper, while Maria José made the coffee. After this slow start we cleaned the house and headed to Alpicat to help my in-laws preparing the lunch.
The rest of the day… swimming pool!!!